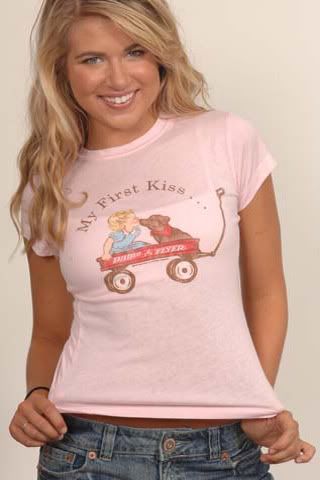 We have been receiving tons of requests for more Cheesey Tees and we are pleased to announce that new designs are now in! We have decided to add a brand new t-shirt section devoted exclusively to Cheesey Tees. If you do not know about Cheesey Tees, you need to get one. They are super soft comfortable vintage t-shirts. You probably have seen them in magazines and on TV and just didn't know they were made by Cheesey. Over the next week you will see the new Cheesey Tees section getting bigger with tons of new t-shirts. These designs include Gumby t-shirts, Peeps, Hot Tamales, Speed Racer, Carvel, Mr. Bill and more!
Pictured is a Radio Flyer vintage My First Kiss t-shirt. Many other cute Radio Flyer designs are also available.
In other new t-shirt news, Affliction mens t-shirts are on the way! These t-shirts are very cool. You probably have seen them on celebs recently. Among those that wear them are Chris Dauhtry (from American Idol), The All American Rejects, Hulk Hogan, Jamie Foxx and others. Look for them soon.